At BCA Architects & Engineers, Our Design has Purpose - to Transform our Communities with Innovative and Sustainable Design Solutions.
Inspired by this mission, we work in interdisciplinary teams to envision and create transformative places across New York State. It's an exciting process – uniquely collaborative, compelled by optimism and curiosity, enabled by broad expertise and the latest technology.
We're always looking for exceptional people to join us across New York State who share our vision. We are located in Watertown, Ithaca, Saratoga Springs, and Rochester, New York. 
For a list of our available positions, please visit our current openings page.
Excellent health care insurance, including

Medical Insurance, with a Company Sponsored HRA
Dental Insurance
Vision Insurance
Life Insurance
ST, Supplemental ST and LT Disability Insurance

Wellness Program Reimbursement
ExerciseRewards Program
401K Participation, with 3% company contributions
Employee Assistance Program
Paid sick leave
Paid vacation
Paid holidays
Flexible Schedule, including Remote Work Opportunities
Professional Licensure Cost Reimbursement
Licensing Education Reimbursement
College Tuition Reimbursement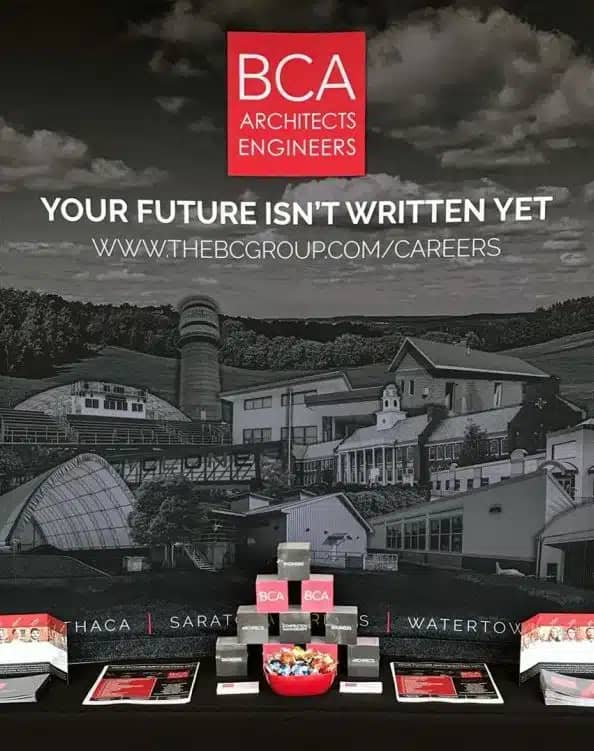 BCA's policies and practices relating to recruitment, employment, career development and advancement, promotion and retirement are based solely on merit, without regard to all legally protected classes, including, but not limited to: race (including traits historically associated with race, such as hair texture and protective hairstyles), color, creed, religion (including wearing attire, clothing or facial hair in accordance with the tenets of religion), sex (including pregnancy, childbirth or related medical conditions and transgender status), reproductive health decisions, gender identity or expression, familial status, national origin, physical or mental disability (including gender dysphoria and being a certified medical marijuana patient), genetic information (including predisposing genetic characteristics), age (18 and over), veteran status, military status, sexual orientation, marital status, certain arrest or conviction records and domestic violence victim status, and any other status protected by law.